The speaker of parliament Alban Bagbin has bemoaned the dressing code of members of parliament.
According to the speaker, what some members of parliament wear to parliament can be seen as naked dressing as they dress improperly.
He stated that what he saw them wearing are singlets and he will not recognize any naked Persons in parliament again but the person will be seen as a stranger.
"What I see you wearing are singlets, and when you wear a singlet to the house, you are naked. I have seen it and that makes you not catch the attention of the speaker…I will not recognize any naked person in this house again, you will be seen as strangers," he said on the floor of Parliament.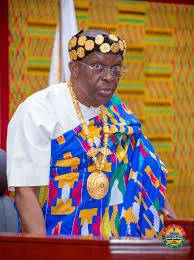 Dressing code is very important in every society and culture and your dressing style will tell people who you are and what you probably believed in.
As leaders in our societies, we have to dress well to set an example for others to imitate.